We are very excited to announce a brand new release of Cognite Data Fusion. This post covers the highlights of this release coming to our customers on June 20th, and guides you to where you can go to get more details. Please drop a question, start a conversation with peers or give us product ideas here in our community on Cognite Hub.
A short video summarizing the release
New landing page 
It can be overwhelming to get started when logging in to Cognite Data Fusion, given that a modern Industrial Data Cloud platform has so much to offer. With all the different possibilities of Cognite Data Fusion, you would prefer to start with a clean and simple landing page guiding you to what is relevant for you. The next time you visit, you will find recently opened tools and recent activities to jump right back in where you left off. 
This allows for easier onboarding, and useful resources such as documentation, online training courses, support and our community is easier to access.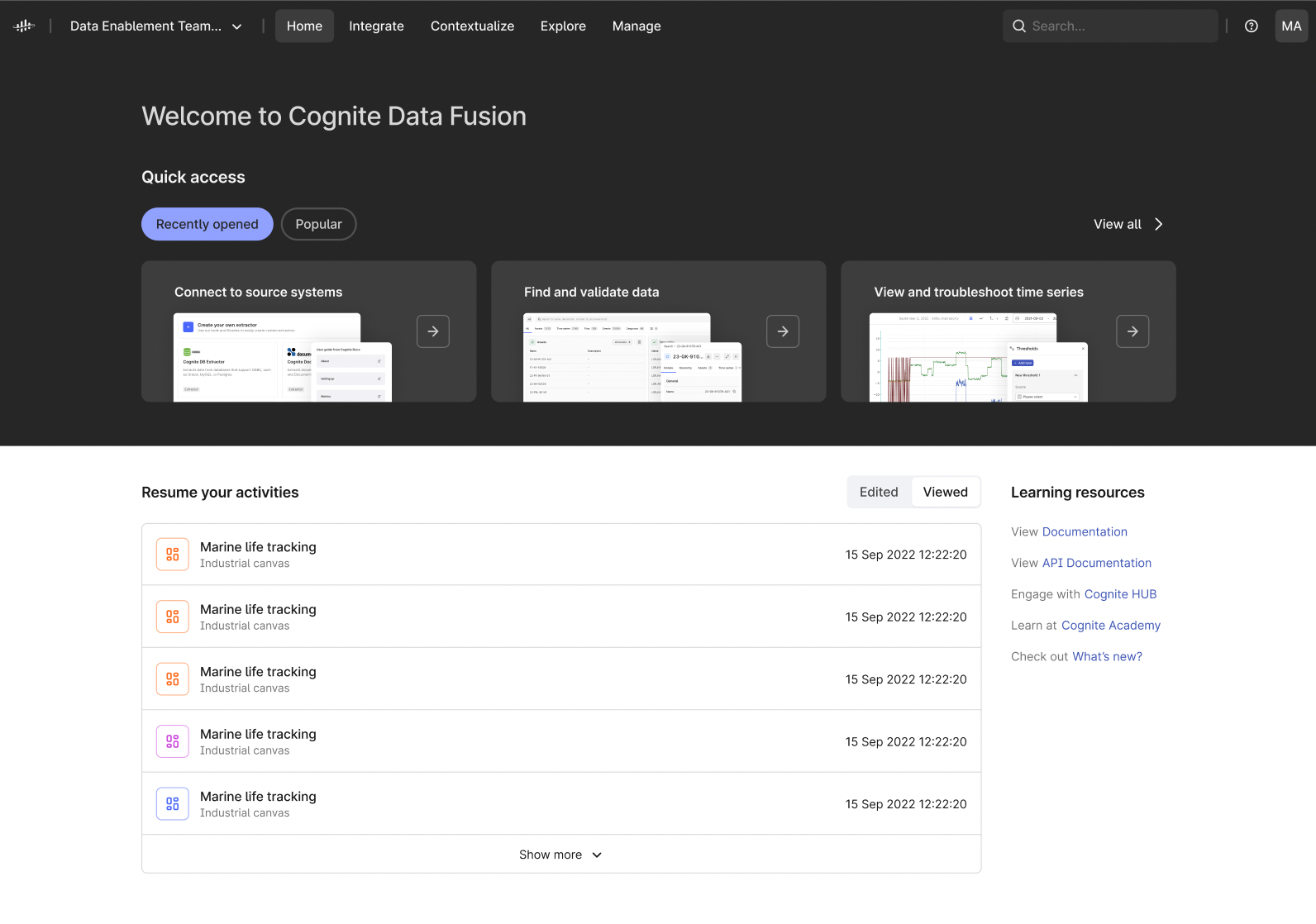 Industrial Canvas
For early adopters we are introducing a powerful new capability in Cognite Data Fusion. The Industrial Canvas is a Generative AI powered, user-centric no-code tool that revolutionizes data exploration and visualization. A collaborative and visual workspace to work across documents, engineering diagrams, sensor data, images, 3D models and more. It gives you simple access to complex industrial data, and allows you to troubleshoot, collaborate and act on insights across multiple disciplines. A collaborative way of piecing the data together, into context, powered by the industrial knowledge graph.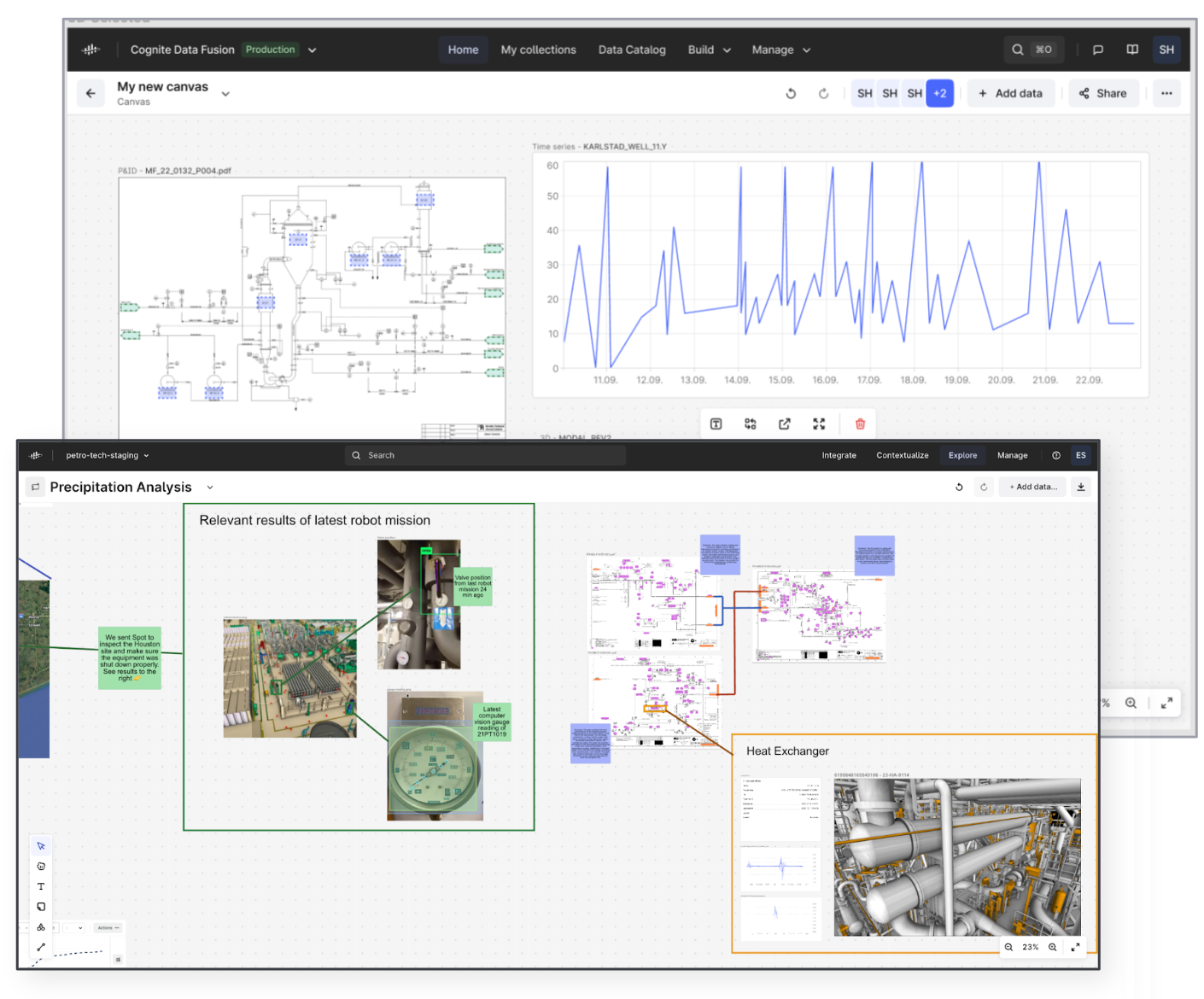 Extensions to advanced data modeling
To realize the full value of the new data modeling capabilities that was released in April, you need them to extend to the wider ecosystem of Cognite Data Fusion. With this release we are making it easier to get started with out-of-the-box data models. The first one available is CFIHOS, which is an industry information standard that aims to standardize across both operators and equipment manufacturers and suppliers. 
You can also build operational dashboards and share insights based on powerful industrial data models through updated connector to Grafana. In addition we will start making native data exploration for these new data model capabilities limited available to selected customers.
SAP extractors
ERP data is an important source of data for solving asset heavy industrial problems, improving asset performance by integrating work orders, maintenance data, asset information etc. to your industrial knowledge graph. Creating and customizing connectors to SAP data can be time consuming and manual. This is why we have productized a robust SAP connector that is available for download and documentation through the Cognite Data Fusion user interface. It supports standard SAP OData interfaces as well as custom OData services built on SAP Gateway across all SAP modules.
User profiles
Enhanced collaboration in digital tools require that users have profiles where they can store basic information to allow advanced sharing, tagging, commenting and further collaboration features. In order to make this possible, Cognite is making user profiles available in Cognite Data Fusion, integrating with your Identity Provider, creating the foundation to enable advanced sharing and collaboration within the tools in Cognite Data Fusion.
In-browser Jupyter Lite notebooks (Limited Availability)
Getting started with coding on industrial data can be a big hurdle. Restrictive policies, lengthy setup and configuration including hosting, maintaining and updating over time. This is why we are launching for early adopters in-browser Jupyter Lite notebook Pre-authenticated to Cognite Data Fusion through the user interface. It will pre-load the latest SDK each time you log in, fast and convenient to get started with coding in one click. No time wasted setting up environments, loading SDKs or spending time on authentication. This will also ship with a set of  examples of typical use cases to get started.