The December 2022 release of Cognite Data Fusion contains major improvements in
search and exploration of data
,
3D and 360 degree image support
,
charting capabilities,
and so much more. Keep reading, or watch the video for a full overview of what we're delighted to bring you, just in time for Christmas.
Before we dive into the details of the December release, we also recommend our
December 2023 Product Tour
, where you can see a lot of the new features being demonstrated in real-world use cases.
COGNITE DATA FUSION DECEMBER 2022 RELEASE IMPROVEMENTS
Improvements to Data Search and Exploration
Finding the data you are looking for in Cognite Data Fusion can sometimes be hard. Based on your collective feedback, we have invested in making this experience a lot better, which comes together in the form of multiple improvements all targeted at making the job of finding the right data in Cognite Data Fusion as simple as possible.
Global search is now available across all data types, and you can also search inside documents. When searching, we have added rich mechanisms to filter and sort your search results, making it easy to narrow down on the exact results you are looking for. The table view of search results has also seen an update, making it easier to customize the view and sort the results on different columns. In order to affect this change while ensuring operational stability, we will be enabling some of these features gradually per project over the coming weeks.
To complement search and filtering, we have also added a lot of new 3D capabilities to the Data Explorer in Cognite Data Fusion. Using a 3D model to explore data allows you to leverage and understand physical locations and relationships of assets and equipment. We now ship a built-in full-screen 3D experience, where you can view contextualized data like documents, time series, events and images directly from the 3D model. The 3D viewer also supports slicing and measurements, allowing you to focus on the parts of the model you're interested in, and also to understand the physical dimensions of the actual asset being shown.
The Data Exploration experience has also seen an overhaul of the user experience, based on your feedback and a desire to make finding data as simple as possible. You can expect further improvements in this area in the February release.
Updated 3D capabilities, 360 degree images, point clouds, and more
These new 3D capabilities are supported by our updated Cognite Reveal SDK, which is now released in version 4.0. It also brings support for 360 degree images, which allow you to create a "street view" like experience from traversing your 3D models, which can be a great way to complement a 3D model with immediately recognizable imagery from the actual site or asset. Support for point clouds is also available in the 4.0 update of Cognite Reveal, with improvements in rendering to make it easier to understand spatial relationships in a point cloud model. We have made it possible to isolate objects when rendering point clouds. This allows you to provide a rich experience when navigating a large point cloud model, adding isolation, color coding and interactive mechanisms for point cloud models. 
In addition to these major updates, Cognite Data Fusion also now provides native support for the Autodesk Navisworks NWD format. In total, these capabilities add up to providing great support for fully integrating 3D data into Cognite Data Fusion, and leveraging 3D and imagery when exploring data or building applications on top of Cognite Data Fusion.
Cognite Charts integrated with Cognite Data Fusion, and event overlays
Cognite Charts has been widely adopted by our customers, and has one of the most active communities of users. Previously, the integration between the other tools in the platform and Cognite Charts has been suboptimal: Cognite Charts had a separate URL requiring a separate login to access causing  unnecessary user friction. As part of our desire to make Cognite Data Fusion a great tool for simple access to complex industrial data, we are delighted to announce that we are bringing Cognite Charts into the main user interface. It is now available from fusion.cognite.com, no separate URL or login is required. This is a first step in bringing a better user experience across the entire product, integrating all of our main platform tools in one place. Charts also comes with a major feature update: you can now view Events in Cognite Data Fusion as overlays to a chart. Combining events and time series charts is often critical to understanding the correlations that are key to effective analysis and troubleshooting.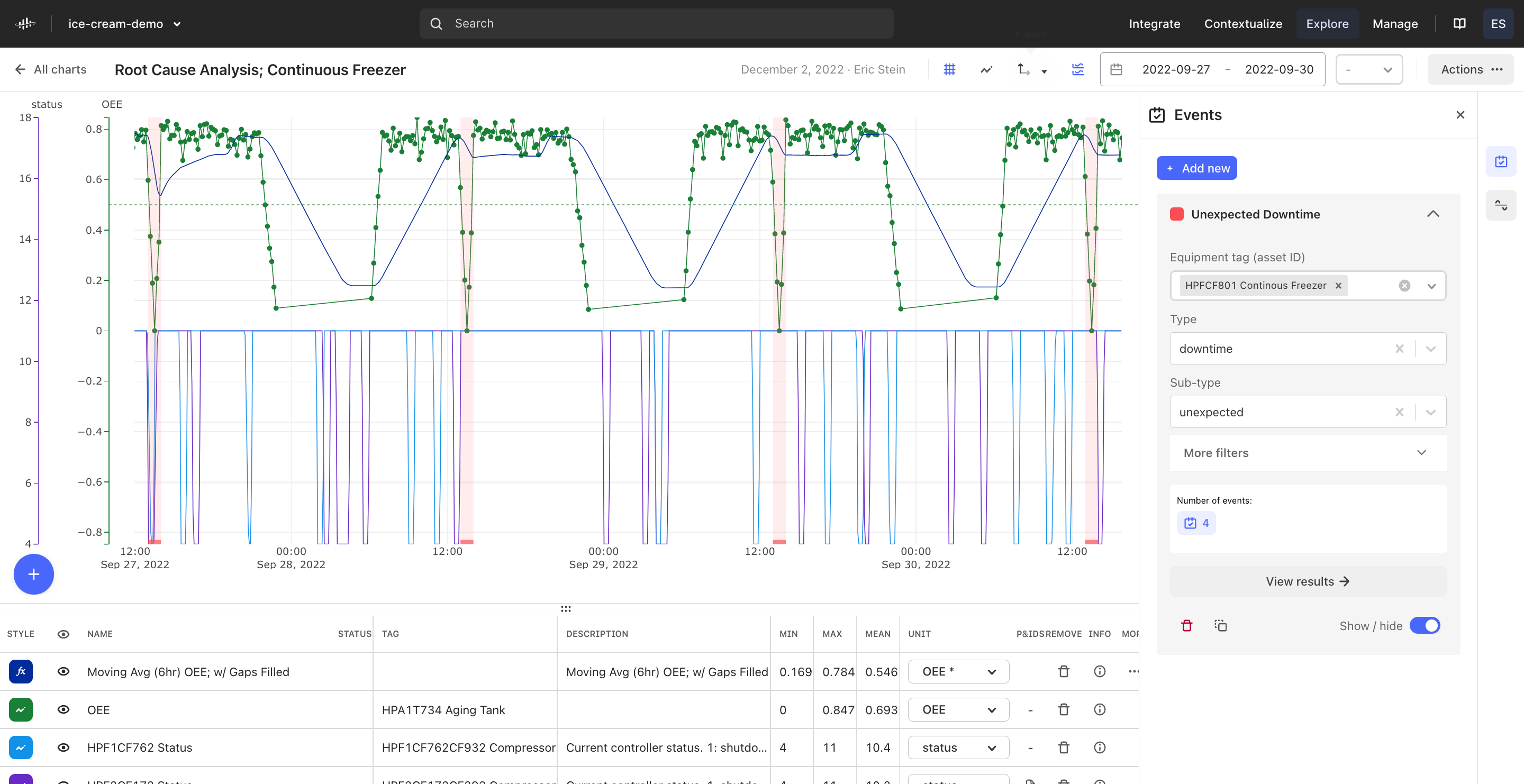 Make it easier to onboard data into Cognite Data Fusion
Continuing on a theme from past releases, we have made several improvements to the data extraction capabilities of Cognite Data Fusion. It is now possible to browse extractors by source systems - this allows you to find tailored components and recipes based on the actual source systems you are connecting to. To complement this, we will be investing in writing up more of our own experience and best practices when it comes to data onboarding, so stay tuned for more updates on this topic here on  Cognite Hub and our documentation.
In addition, we added three extractors specific for well related data in the Oil & Gas sector: Cognite WITSML extractor, Cognite EDM extractor and Cognite Studio for Petrel extractor. This allows our users to withdraw data from highly used sources, and make it available through CDF to complete advanced well delivery workflows.
Data Management - Add Data Catalog to Cognite Data Fusion
A cornerstone of a scalable DataOps Platform is the ability to create, manage and monitor a large number of data products from the platform. With the upcoming general avail ability release of our Flexible Data Modeling capabilities, this will become even more important. To take the first steps in providing an improved data management experience, we have shipped the first iteration of a data catalog inside Cognite Data Fusion. Expect this service to mature into a more holistic offering for understanding, exploring and managing data products in the course of 2023.
API & SDK Improvements, Japanese Language support
Our Python SDK has seen a major upgrade - the version 5.0 release focuses on performance improvements when accessing data points from many different time series, and brings functional parity between the Data Points API and the SDK. For most users, the 5.0 upgrade should be a drop-in replacement for the current version of the SDK.
We have also added cursor support to the time series APIs - making it easier to navigate and retrieve large sets of time series data points, and bringing API parity with the other data retrieval APIs of CDF.
Finally, some love for our Japanese users: Document search now ships with improved support for Japanese documents.
We hope you find some of these updates useful and valuable. If you have any feedback or ideas, we'd love to hear from you right here on Cognite Hub. Stay tuned for more news and product updates as we move into 2023.
Read the December Release Documentation