We're proud to present a newly released feature in Cognite Data Fusion — Cognite Charts (charts.cogniteapp.com) and invite you to join our new group on Cognite Hub!
Charts is a powerful, no-code experience to perform industrial data analytics, troubleshooting & root cause analysis. If you are doing routine tasks or troubleshooting complex issues where you need access to operational data, Charts makes this fast, repeatable and collaborative — all in one tool.
We've built Charts with a clear focus on domain expert engineers working within process industries. If you're a production engineer, process engineer, flow assurance engineer, or similar, Charts can provide you with the go-to experience for exploring, trending, troubleshooting by leveraging the contextualized data in Cognite Data Fusion.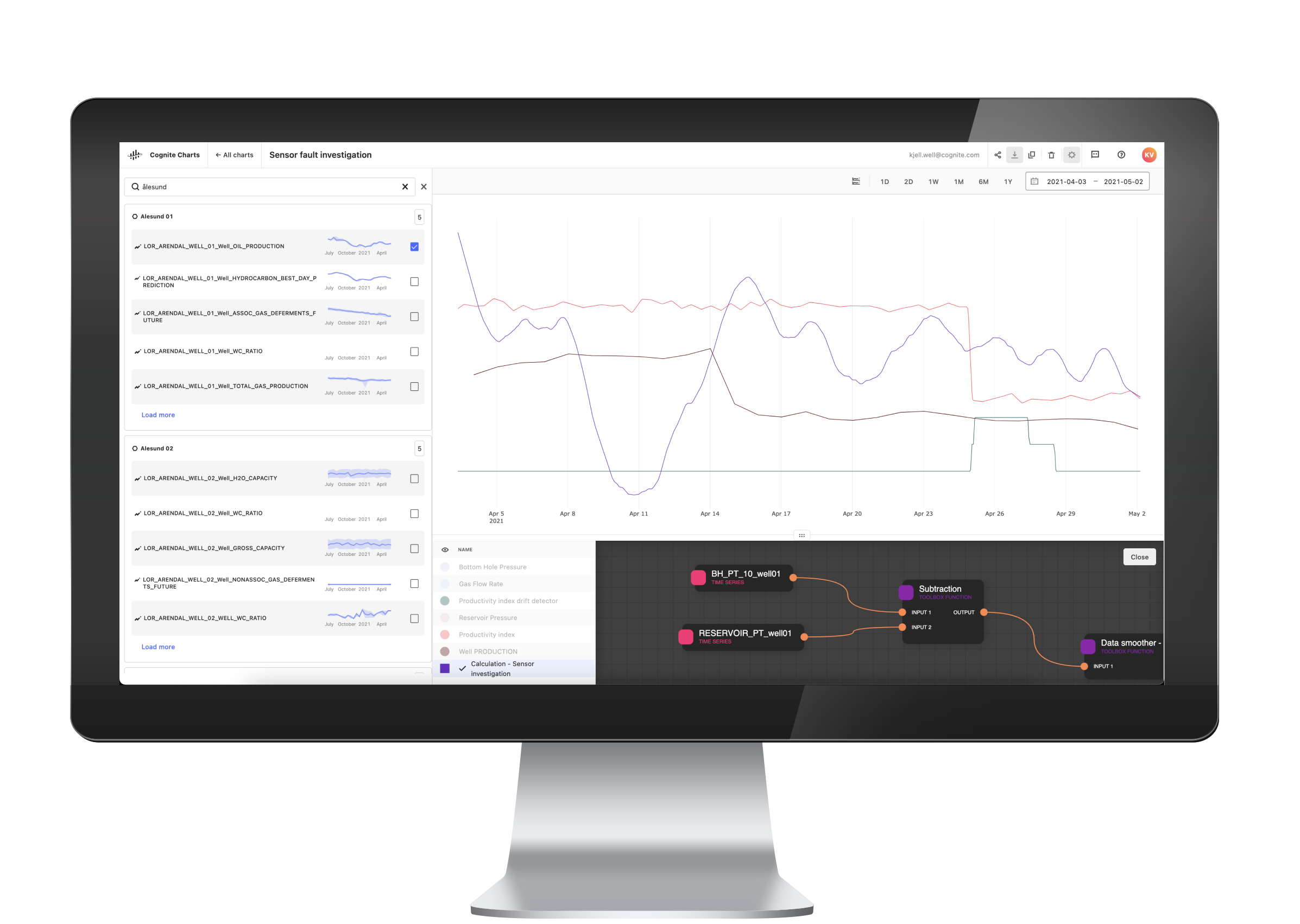 Key Features
Find your data through contextualized search and exploration
As humans we explore and understand data better and faster when it is visualized, in the right context and described in a natural, logical language.
By leveraging the contextualized data in Cognite Data Fusion, we have built a data exploration experience that is tailored to the ways domain experts find the data. This makes it easy for you to find the data you need for the problems you're solving. Click your way through interactive P&IDs and Process Flow Diagrams so you understand your data and your system when troubleshooting.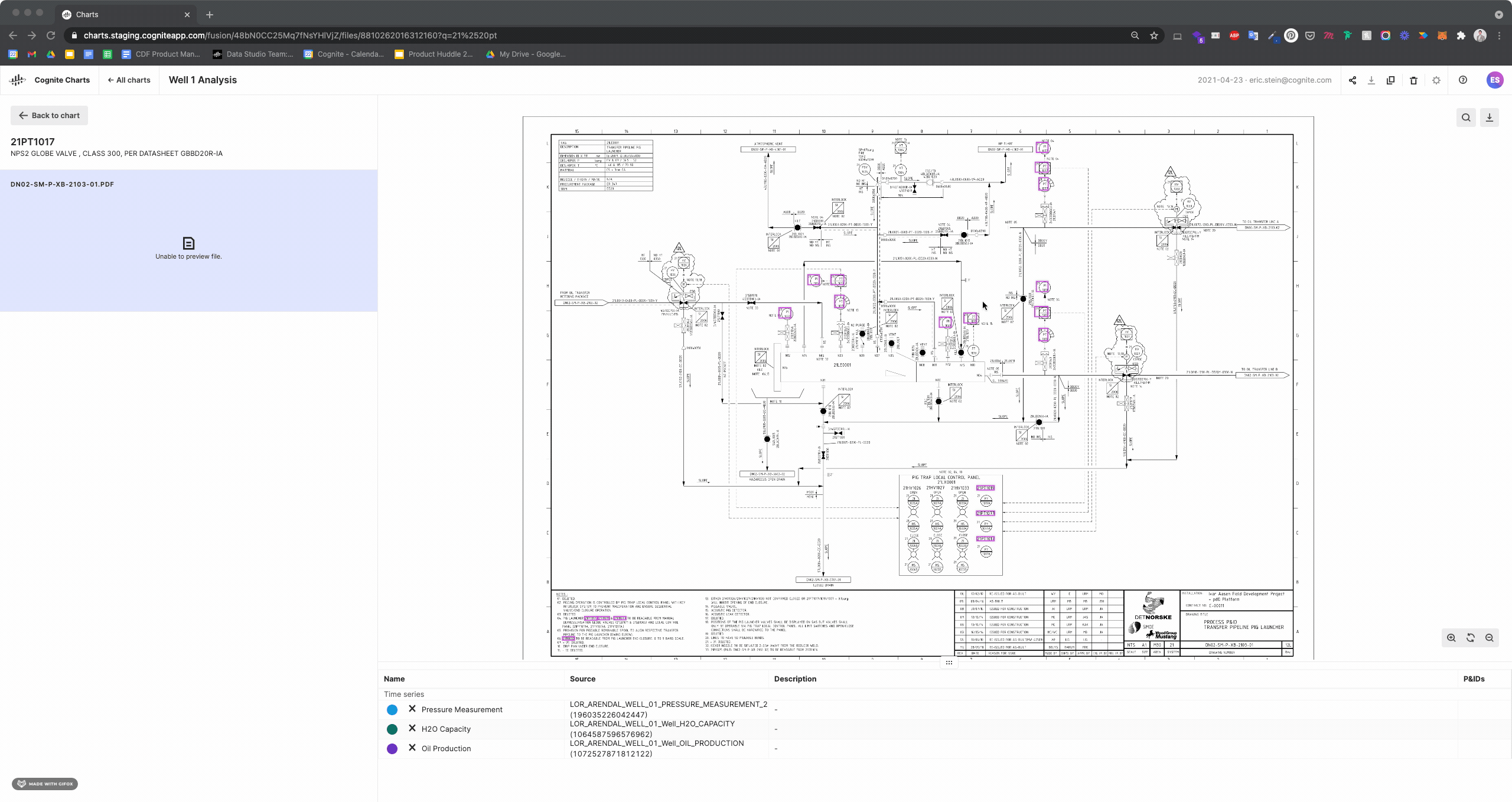 Advanced trending and troubleshooting
With Cognite Charts anyone involved can have access to real-time and historical data.
With interactive, responsive and fast charting you can quickly find correlations, trends and insights that was previously hard to find. Trend one or several tags from the last five minutes or the last few years. Identify operating conditions and anomalies with a few clicks.
Save and share your charts for repeatable routine checks, without having to search and find the data each time. Remove unproductive work and spend time in finding answers and opportunities to optimize your assets.
Powerful industrial toolbox for insights and analysis
Why are algorithms and data-driven models only available for the few domain experts who also are fluent in advanced software coding?
Well, we are now making them available to the rest of the world — particularly to non-coding domain experts.
For many years  industrial data scientists have been building smart algorithms to solve  complex industrial problems. They are now available in a no-code drag-and-drop intuitive interface. Liberate your data and empower domain experts the tools to drive impact every day.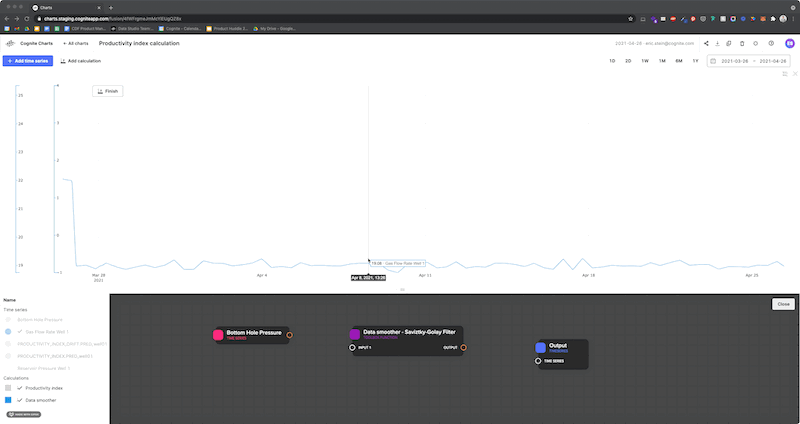 Cognite Charts includes several data science toolboxes that provide subject matter experts (SMEs) out-of-the-box algorithms to process and manipulate data, conduct root cause analysis (RCA) and develop solutions without having to code.
The toolboxes cover basic operations, statistical methods, data transformation, and advanced models. They work out-of-the-box with Cognite Charts, and we will continuously add new algorithms, features, and functionality.
Read more about each of the toolboxes here: About the Data Science Toolbox Functions. Of course, you can see all of the functions and algorithms that are available from within the calculation builder in Charts.
Deep dive from BestDay

If you are using Cognite's BestDay application, you have easy access to open any well data directly in Charts. When you want to dive into the nitty-gritty details, use the new link to Cognite Charts, where you can further analyze, perform manual root cause analysis of data and deviations across wells and equipment, and also save and share the findings with your co-workers.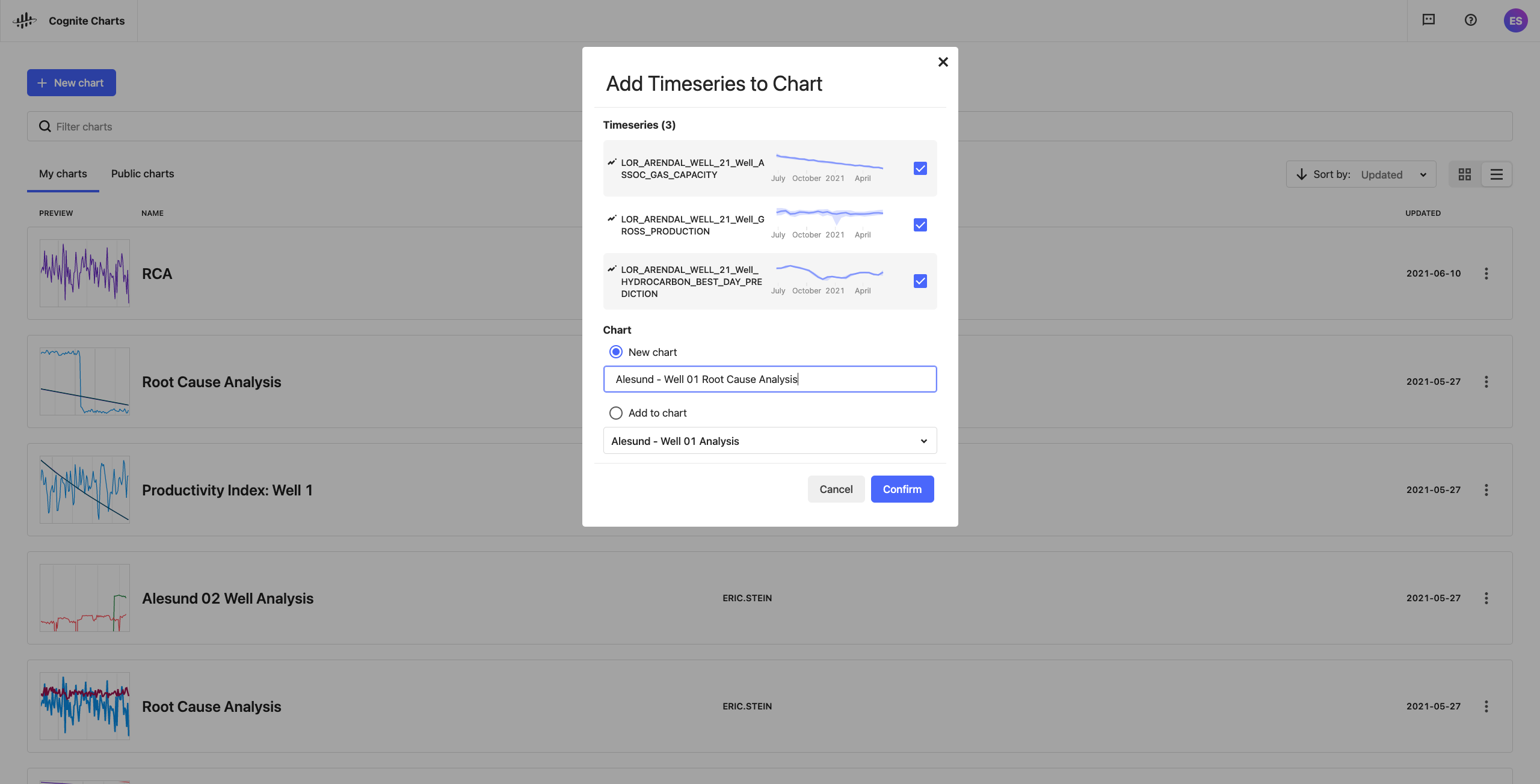 Getting access
Currently, Cognite Charts needs to be rolled out to a CDF project on a case-by-case basis. Some of our customers have been early adopters and already have access to Charts on their tenants.
If you and your colleagues do not have access, the please reach out to your Cognite representative, or leave a comment in the thread below, and the product team will be in touch.
Learn more & join the discussion
Learn more in the Charts documentation, and join the discussion in the Charts group on Cognite Hub.
Helpful posts:
Frequently Asked Questions (FAQs)
"I have a feature request. What do I do"
"I'd like to request a new toolbox function. What do I do?"